Seaglass at Bonita Bay – Bonita Springs FL Real Estate
Seaglass at Bonita Bay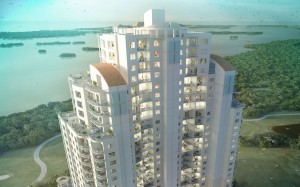 The 26-floor, 120-unit Seaglass high-rise tower to be built by the award-winning Ronto Group within the Bonita Bay community in Bonita Springs will feature fully-completed, ready for occupancy residences with designer-selected premium finishes.
In addition to relishing their luxurious tower and penthouse residences, the residents of The Ronto Group's Seaglass at Bonita Bay high-rise tower will enjoy a previously planned and constructed award-winning amenity complex. The outstanding array of amenities at Seaglass includes a theater, guest suites, card and club rooms, a fitness facility featuring men's and women's spas with steam and massage rooms, a resort-style walk-in pool, and a deck with a covered cabana that includes a bar and grill. Preliminary plans for the Seaglass tower include a rooftop amenity deck available to all residents for entertaining and enjoying Gulf views and sunsets.
Attractions both within the Bonita Bay community and available through the Bonita Bay Club will contribute to the amenity-rich Seaglass lifestyle. Casual and fine dining, boating, tennis, a fitness center and spa, private beach park, and five championship golf courses are all part of life at Bonita Bay. The community is celebrated for its environmental stewardship and creative land use, including three waterfront parks and 1,400 acres of open space.
The full-service Bonita Bay Marina provides access to the Gulf of Mexico. Nature and fitness enthusiasts enjoy Bonita Bay's twelve-mile network of biking and hiking paths. A kayaking and canoeing lodge offers additional recreational possibilities. Bus transportation is provided to a private Bonita Bay beach park on Little Hickory Island.
The amenities of the Bonita Bay Club are also available to residents of Seaglass. After a significant renovation of its 50,000 square-feet clubhouse, the Club is in the process of completing a one-of-a-kind Lifestyle Center. The approximately 60,000 square-feet Lifestyle Center is in the Promenade adjacent to Bonita Bay. The first-floor lobby showcases a soaring two-story atrium. Visitors will be greeted by a Concierge.
The world-class amenities of the Bonita Bay Club, including three on-site and two off-site golf courses, will be available to residents of Seaglass.
The Lifestyle Center's 9,000 square feet spa and salon features seven treatment rooms, including a couple's treatment room, men's and ladies' locker rooms and wet areas with dedicated steam, sauna, and whirlpool rooms, relaxation rooms, a coed hair styling area, and a dedicated barber shop are all featured. Men's and ladies' locker facilities and showers are also included.
The nearly 20,000 square-feet second floor is dedicated to a Fitness Center and Fitness Café. The Fitness Center's Italian made, Technogym equipment will include cardiovascular, strength, functional fitness, and kinesis machines. The Fitness Center will also include dedicated rooms for group fitness, spin, Pilates, and Gyrotonics, as well as a dedicated golf training studio. Men's and ladies' locker rooms will include full shower facilities.
Bonita Bay Real Estate
The Bonita Bay community features an onsite marina offering a relaxing dining and lounge experience.
The Fitness Café will serve healthy fast food, freshly made juices, and smoothies. Menu selections are expected to include salads, rice bowls, pressed sandwiches and wraps, and protein selections such as salmon, steamed chicken, grilled lean beef, and protein alternatives for vegetarians. An assortment of freshly made toppings will be available.
Bonita Springs FL Real Estate, Homes and Condos for Sale in Bonita Springs FL
To reserve your residence at Seaglass, visit the Seaglass Sales Center from 10:00 a.m. to 6:00 p.m. Monday through Saturday, and Sundays from noon to 5:00 p.m. The Sales Center is at 26951 Country Club Drive within Bonita Bay. Connect with Seaglass on Facebook. Register for the interest list and project updates at www.seaglassatbonitabay.com.
Take advantage of pre-contract pricing. Call Christina Fischer P.A. today at: 239.770.0007